The following phased economic recovery plan for South Africa has been implemented Proposal for Phased Economic Recovery. From the 01 May 2020 phase 4 will be implemented.
Please read the relevant announcement regarding the relief measures. The full statement is included, President Cyril Ramaphosa: Escalation of measures to combat Coronavirus COVID-19 pandemic. Following the announcement text, included are our interpretation notes, to assist you understand the relevant links and information for relevant relief applications.
Donations, what SARS needs to know
Are you making donations to your children?
Did you make a donation to a third party, that is not a registered NGO/NPO?
Did you write off a loan to another person, a trust or a company?
SARS published, on the 04 June 2018, a notice confirming the personal income tax filing season will be shortened. Individuals normally have from July until the end of November to file tax returns. Non-provisional tax payers will now need to submit their returns in four months.
Gigaba hardly paused for a breath during the South African Budget Speech 2018, to prevent interruptions. With the odd sip of water and random comment of "cheers". He highlighted the challenge of our time, equal access for all and continued with words of optimism and resolve. Certainly, we need hope, as the country's finances are in a precarious state.
Pravin Gordhan presented the Budget Speech 2017, under challenging economic conditions both globally and locally. Some significant changes were implemented this year affecting both individuals and companies. Can an economy continue to survive on a less than 1% growth rate?
Business Soul Accounting and our team decided we would give back to Ndabezinhle instead of having a Christmas lunch. We put on our old clothes and…
Efficient Secretarial services are a key service that we provide to companies, close corporations and trusts.
We wish all our readers and client's a special blessing this Christmas.
Most storms in our region begin with a hot berg wind. Some people will bring out their costumes sit back next to the pool and enjoy the heat. Others will batton down the hatches, make sure the cars are safely parked in the garage and then sit back for the last few hours to enjoy a quick dip in the pool. Others will panic lock everything away and hide, with the expectation of heavy down pours and floods. Some don't even have anything to pack away and enjoy the relief of a cleansing rain. Children will run in the blowing autumn leaves, catching…
A prominent and respectable attorney firm recently had a staff member delete files and folders on the server by mistake. Added to their whose, the daily backup device failed the day before and so substantial amounts of data were lost. We have been running http://aboutbackupbank.co.za for a few months with our client…
We are qualified as Independent Reviewers and offer a limited assurance engagement service for companies.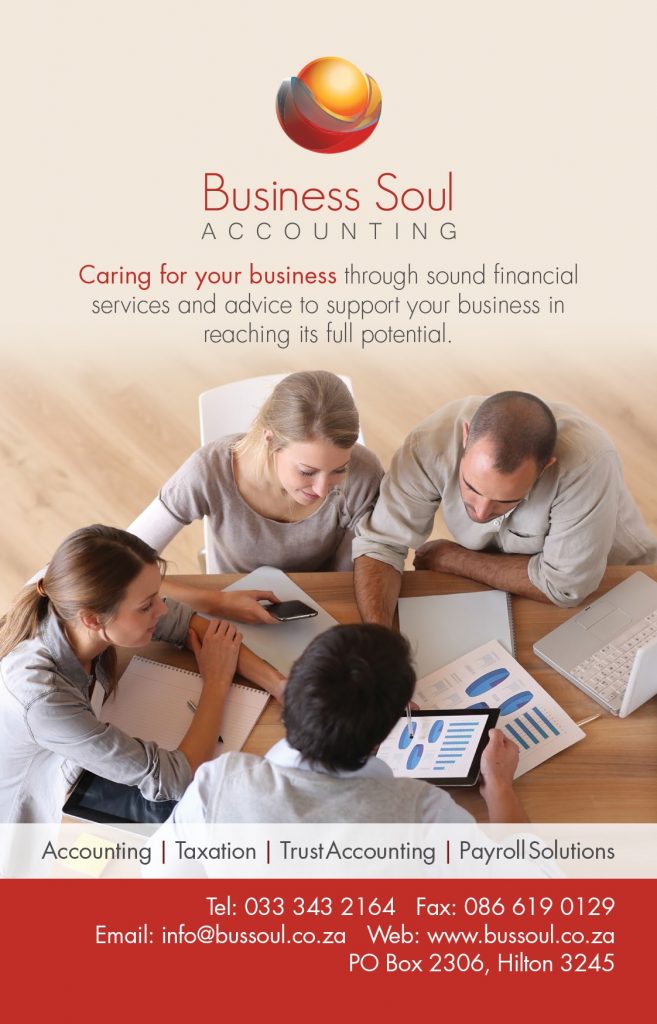 Windows XP was recently made redundant. Don't be in a hurry to throw away old laptops and computers.
The Reform Audit Support System has had significant changes in the last few months. These changes will impact the attorneys in KwaZulu-Natal with…
The Budget Speech 2014, by Finance Minister Pravine Gordhan, was presented under easing global economic pressure, but on the back of a weakening Rand due to the dollar strengthening in the global recovery…
Have you used trading stock for personal use or changed it to use as a business asset. Have a read of this SARS interpretation note: No 65, to find out more information on how to account for it.
Once again the draft Employment Tax Incentive Bill has been tabled. The bill proposes tax relief to the employee. This is expected to pass on to the employer by reducing the effective cost to company, thus enabling companies to employ staff at a lower cost.
Ndabezinhle Creche holds a special place in the heart of Business Soul Accounting cc. We have been supporting the creche as a part of our social upliftment 'Business Soul Cares' program. Education is important to us.
Are you having difficulty with preparing your EMP501 payroll reconciliation?